HTHS Classes of 1973 & 1974
Our 50 Year Celebration
Why come to this one?
Because the 75th isn't happening until 2048
Because Mr. Tanner said so
Because you'll never make the 100th
We are thrilled to announce that we will be celebrating the 50th year since graduating from Haddon Township High School, our "Golden Reunion," on the deck of the Battleship New Jersey, on the Camden waterfront.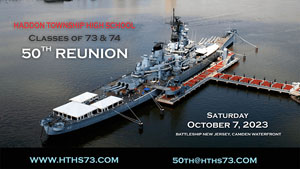 We'll have the entire fantail (the rear) of the ship, overlooking the beautiful skyline of Philadelphia. There is also a "tented area" large enough to accommodate up to 400 people if the weather makes that necessary.The ship is wheelchair accessible with elevators fore and aft, and area bathroms are ADA compliant. Gated, secure parking is included on Clinton St. with golf cart shuttle for those that want it. Thirteen VIP parking spaces next to the ship's promenade for those who need it.
There will be food and drink, photos and videos, and the warm companionship of old friends that share the memories of our youth.
As we get closer to the event, ticketing information will be posted. Until then, mark your calendars… and spread the word! Questions? Send us an email to: 50th@hths73.com